Providing Professional Psychological Services
---
I provide mental health services in a private and comfortable office setting.
I primarily work with individuals (ages 14 years old and older) from Fort Wayne and the surrounding areas. Sometimes, I may also work with couples and families with whom I have previously worked.
If you have any questions or are interested in pursuing treatment with me, please feel free to contact me by
Telephone: (260) 482-8427 or
Email: timbrookphd@yahoo.com
---
Notice: Telehealth Services are Now Provided
Due to the extraordinary circumstances we currently face with the COVID-19 pandemic which threatens all our health and well-being and the national emergency declarations and orders by the Governor of Indiana to practice "social distancing", I have decided to change how I deliver psychological services until this emergency is resolved.
I will be offering telehealth services by appointment. Telehealth services involve having a secure video connection between the provider (me) and you.
You can find out more about this in the notice here. At the time of your appointment, you can also click on the link below.
Please note appointments must be made in advance and unscheduled appointments will not be provided.
__________________________________________
---
I am proud to work with our US veterans, active duty military service members, and their families. I also participate in the Give an Hour program.
Check out their website here.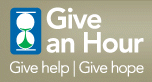 ---