Providing Professional Psychological Services
---
I provide mental health services in a private and comfortable office setting.
I primarily work with individuals (ages 14 years old and older) from Fort Wayne and the surrounding areas. Sometimes, I may also work with couples and families with whom I have previously worked.
If you have any questions or are interested in pursuing treatment with me, please feel free to contact me by
Telephone: (260) 482-8427 or
Email: timbrookphd@yahoo.com
---
Notice: Telehealth Services are Now Provided
Due to the extraordinary circumstances we currently face with the COVID-19 pandemic which threatens all our health and well-being and the national emergency declarations and orders by the Governor of Indiana to practice social distancing, I have decided to change how I deliver psychological services until this emergency is resolved.
I will be offering telehealth services by appointment. Telehealth services involve having a secure video connection between the provider (me) and you.
You can find out more about this in the notice here. At the time of your appointment, you can also click on the link below.
Please note appointments must be made in advance and unscheduled appointments will not be provided.
__________________________________________
For those individuals who are attending in-person services in my office, I ask that you read the information below.
Risks of Opting for In-Person Services
You understand that by coming to the office, you are assuming the risk of exposure to the coronavirus (or other public health risk).
This risk may increase if you travel by public transportation, cab, or ridesharing service.
Your Responsibility to Minimize Your Exposure
To obtain services in person, you agree to take certain precautions which will help keep everyone (you, me, and our families, the other staff, and other patients) safer from exposure, sickness and possible death. If you do not adhere to these safeguards, I may choose to either provide you services via telehealth or I may choose to discontinue working with you. If you make an in-person appointment at my office:
You will only keep your in-person appointment if you are symptom free.
If have a fever, suspect that you have a fever, or if you have other symptoms of the coronavirus, you agree to cancel the appointment or request that I provide the session via telehealth. If you wish to cancel for this reason, I will not charge you our normal cancellation fee.
You will wait in your car or outside until no earlier than 5 minutes before our appointment time.
You will wash your hands or use alcohol-based hand sanitizer when you enter the building.
You will practice physical distancing and stay at least 6 feet from others you may encounter in the office, including in the waiting room.
You will wear a mask in all areas of the office. If you do not have a mask, please call my office before the appointment and we may be able to provide you a mask to use during your visit. You may be permitted to remove the mask during the session, if you and I both agree that it is okay.
There will be no physical contact (e.g. no shaking hands) with me or anyone else in the office.
You will try not to touch your face or eyes with your hands.
You will not bring others into the office unless they are participating in the therapy session. Others who are not participating in the therapy session may wait in your vehicle.
You will take steps between appointments to minimize your exposure to COVID by abiding by social distancing guidelines, wearing masks, sanitizing/washing your hands, and following CDC guidelines.
If you have a job that exposes you to other people who are infected, you will immediately let me know by telephone.
If a resident of your home tests positive for the infection, you will immediately let me know by telephone and we may begin treatment via telehealth.
_______________________________________
I may change the above precautions if additional local, state or federal orders or guidelines are published. If that happens, we will talk about any necessary changes.
_______________________________________
My Commitment to Minimize Exposure
Please let me know if you have questions about these efforts.
You understand that I am committed to keeping you, me, other office therapists, our office staff and all our families safe from the spread of this virus.
If you show up for an appointment and I believe that you have a fever or other symptoms, or believe you have been exposed, I will have to require you to leave the office immediately. .
If I test positive for the coronavirus, I will notify you so that you can take appropriate precautions.
---
I am proud to work with our US veterans, active duty military service members, and their families. I also participate in the Give an Hour program.
Check out their website here.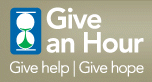 ---